Carolyn and Cliff Grimsley
---
Carolyn and Cliff Grimsley
Phone:
Phone:

O:

318 759-7636

318 759-7636

office
Office:
Office:

Century 21 Elite

8575 Fern Ave Suite 105
Shreveport, LA 71112
We are Carolyn Grimsley and Cliff Grimsley, Realtors, members of Century 21 Elite with offices in both Shreveport, and Bossier City, LA. We have been helping families buy and sell real estate for more than 20 years. We are graduates of Louisiana Tech University, Cliff in engineering and Carolyn in education with advanced studies at the University of Alabama and M.Ed. from the University of North Carolina. We continue to attend seminars, conferences, and training throughout the United States. We believe education and training are the keys to helping consumers get the best value.

Carolyn has been in the real estate business since 1992. Carolyn was named Realtor of the Year for the Northwest Louisiana Board of Realtors in 2010. She was also President of the Louisiana chapter of Certified Residential Specialists in 2011. In 2013 she served as the Northwest Louisiana Board of Realtors' President. She is an Accredited Buyer's Representative (ABR), graduate of the Realtor Institute (GRI), GREEN council, E-Pro, Short Sales and Foreclosure Resource designation (SFR), Senior Real Estate Specialist (SRES). She is a real estate instructor at the Northwest Louisiana Board of Realtors.

Carolyn is also a graduate of the Louisiana Realtor's Leadership Academy.

So why did we create ZIP711.com?

Cliff likes to point out that there are literally thousands of web sites where a consumer can see "current" listings. However at ZIP711.com we put property data into perspective. Currently, there are four major national web sites that offer some form of analysis or statistics. However, real estate is a local business. When a national group attempts to characterize what is happening in a subdivision in our local LA area, they often miss the details of your home or a particular neighborhood that brings value.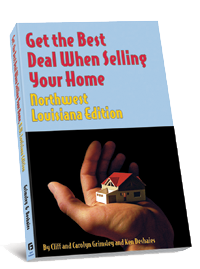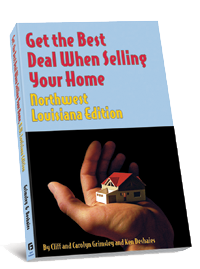 We co-authored a book, "Get the Best Deal When Selling Your Home, Northwest Louisiana Edition." It also has a special chapter just for buyers. It is available in paperback now and will soon be released for E-Readers.

We offer a wide variety of services, but specialize in listening to your needs to create strategies that will help you successfully meet your housing goals.

Zip711.com is good place to start and we invite you to register. You will be able to see great information about individual properties, streets, subdivisions and much more.

Our book and ZIP711.com are examples of how we are different and how we can help you and your family.


SRES, GRI, ABR, GREEN, CRS, e-PRO, Military Relocation Professional
Real Estate Board President - 2013 Northwest La, Realtor of the Year 2013 - La Certified Residential Specialist, Realtor of the Year 2010 - Northwest Louisiana Association